FABRIANO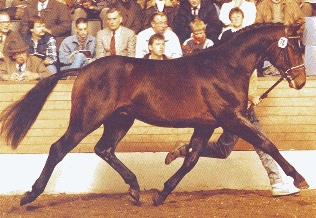 SANTO STEFANO WENZI

WENZELII

SIRE: FABRIANO
His rythmical and flowing movements were convincing in training, licencing and performance test where he was given high marks in the section "rideability". He is uncomplicated, good-natured and has an excellent jumping attitude. His offspring is of outstanding quality and known for willingness to perform and ability.
Performance Test Adelheidsdorf in 1990, final result 133,02 points.
First of 36 participants. Rideability: 128,55 (4th position), jumping: 132,37 1st position).
VATER: FABRIANO
Der Hengst überzeugte beim Training, bei der Körung und in der Hengstleistungsprüfung mit seinen flüssigen, akuraten Bewegungen und erhielt hohe Noten für seine Rittigkeit. Seine Nachkommen sind durchweg von guter Qualität und bekannt für ihre Leistungsbereitschaft und ihr Vermögen.
Hengstleistungsprüfung Adelheidsdorf 1990, Gesamtergebnis 133,02 Punkte, 1. von 36 Teilnehmern. Rittigkeit: 128,55 (4. Platz), Springen 132,37 (1. Platz).
PADRE: FABRIANO
Lo stallone era convincente al lavoro, all`approvazione e nel performance test per impulso e plasticità dei suoi movimenti e ha ricevuto valutazioni alti per la sua cavalcabilità sia dei giudici sia dei cavalieri esterni. I figli sono riconociuti per qualitá e bellezza e per abilitá e classe.
Performance Test Adelheidsdorf 1990, Indice totale 133,02 punti, 1. qualificato da 36 participanti. Cavalcabilità: 128,55 punti (4. posto), attitudine al salto 132,37 punti (1. posto)

DAM: SANTO STEFANO WENZI
Wenzi`s sire WENZEL II (full-brother with exactly the same pedigree as WENZEL I) was one of the most important stallions of the Hanover stud book. He was the winner of the performance test in Adelheidsdorf 1982 and got excellent marks for his movements and rideability. WENZI is registered in the main studbook of Hanover and a fertile, goodnatured mare, also mother of SANTO STEFANO FEDERICO, born in 1999, finalist of the Italian Performance Test 2003 now being trained for dressage by Stefano Mauro.

WENZIS Vater, WENZEL II (Vollbruder zu WENZEL I) gilt als einer der wichtigsten Vererber der Hannoveraner Zucht. Er wird beschrieben als "formschöner, grossliniger Beschäler mit Adel, Ausdruck und Substanz". Er war Sieger der Hengstleistungsprüfung in Adelheidsdorf 1982 und erhielt ausgezeichnete Beurteilungen aller drei Grundgangarten sowie für seine Rittigkeit. WENZI ist eine fruchtbare Hannoveraner Hauptstammbuchstute und ebenfalls Mutter von SANTO STEFANO FEDERICO (Finalist der italienischen Hengstleistungsprüfung 2003), der vom italienischen Dressur-Spezialisten Stefano Mauro auf seine Karriere im Viereck vorbereitet wird.

Il padre di WENZI, WENZEL II (fratello pieno di WENZEL I) è considerato uno dei più importanti razzatori dello stud-book di Hanover. E descritto nel catalogo ufficiale come "bellissimo stallone di grande struttura con aspetto nobile, pieno di espressione e sostanza". Era il vincitore del Performance Test 1982 a Adelheidsdorf con una classifica eccezionale per i suoi movimenti (passo, trotto, galoppo) e per la sua cavalcabilità.
WENZI è una fattrice élite Hanover e anche madre di SANTO STEFANO FEDERICO - finalista del Performance Test italiano 2003 - che viene preparato per la sua carriera agonistica di dressage da Stefano Mauro.