SANTO-STEFANO-GIANNA
Breed/Razza/Rasse: Hannover
Registration No/No. iscrizione U.N.I.R.E. 117636
Lebensnummer:DE431 316622400
Micro Chip No .......
Sex/Sesso/Geschlecht: female/Femmina/Stute
Colour/Mantello/Farbe: bay/baio oscuro/dunkelbraun
Born/nato/geb.: 14/05/2000
Dam/Madre/Mutter: LORENA K da LEGAT/LANTHAN/LOMBARD/AKZENT I - BOLERO - Hannover
Sire/Padre/Madre: GRANDOM da GRANNUS/GRAPHIT/GRANDE - Hannover
Breeder/allevatore/Züchter: SCUDERIA SANTO STEFANO di Barbara D. Fuchs Sant`Ippolito (Italia)

GIANNA is a well-built intelligent lively horse with fascinating movements and a promissing attitude over the jump. She is very good- natured, safe and eager to learn.
GIANNA è una cavalla di bella struttura con movimenti affascinanti e un talento speciale per il salto. E di buon carattere, serena e sicura con una disponibilità incredibile.
GIANNA ist ein ausgesprochen hübsches, harmonisches Pferd mit hervorragenden Grundgangarten und einer vielversprechenden Springbegabung. Sie ist gutmütig, charakterlich absolut integer und von aussergewöhnlicher Leistungsbereitschaft.
GRANDOM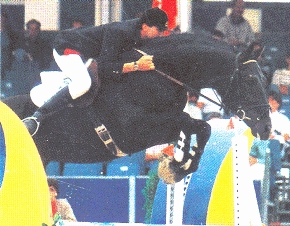 LORENA K (con- with-mit Gianna)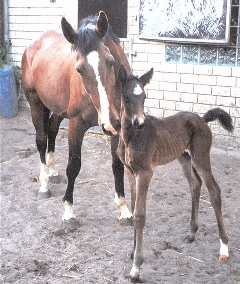 SIRE: GRANDOM was extremely successful in show-jumping in Belgium where he was given the name GRANDUS. His sire the black stallion GRANNUS was frequently winner in high class show-jumping events and decisively influenced the pedigrees of quality horses all over Europe. His dam DOMINA is the daughter of DOMSPATZ who guaranteed excellent jumping horses. Paired with most different dams GRANDOM produced offspring with surprisingly uniform characteristics. Many of his foals qualified for Verden auction which undoubtedly is proof of outstanding quality.
PADRE: GRANDOM era un vincitore in molte gare di salto ostacoli in Belgio dove si chiamava GRANDUS. Suo padre - il morello GRANNUS - era conosciuto per vincere le gare a livello internazionali di salto ostacoli e influenzava decisamente le genealogie importanti di cavalli di qualità in tutt`Europa. GRANDOM a dato risultati sorprendentemente uniformi anche se accoppiato con fattrici molto diverse. Tanti dei suoi puledri erano qualificati per l`asta di Verden senz`altro una prova per essere fuoriclasse.
VATER: GRANDOM ist ein Springtalent hannoverscher Abstammung und wurde nach Belgien verkauft, wo er unter dem Namen GRANDUS erfolgreich in grossen Springen war. Sein Vater, der Rappe GRANNUS, war im Parcours bis in die hohen Klassen siegreich und hat die Blutlinien der modernen Zuchten international entscheidend geprägt. Die Mutter DOMINA stammt ab von DOMSPATZ, der als Garant für Spitzen-Springpferde gilt. GRANDOM hinterliess aus unterschiedlichsten Müttern eine einheitliche Nachzucht, mehrere seiner Fohlen wurde zur Verdener-Elitefohlen-Auktion zugelassen, was zweifellos ein Dokument für Qualität ist.

DAM: LORENA K - once dressage performer at Verden`s famous auction - decends from the outstanding familiy of the mare BOLEGRA founded by internationally successful Hanoverian breeder Kampert. LORENA K in her performance test for breeding mares was given high marks because of her impressive movements, her excellent rideability
and equal talent for dressage and jumping. The Hanoverian premuim mare has a nice and lovely character which she passes on to her offspring. There are some more famous assets in her pedigree: BOLERO and LEGAT, two stallions who were of great value to the Hanoverian stud. And most interesting: German Dressage Championesse Isabel Werth has a new horse, a stallion named Satchmo, whom she considers appropriate for future World Championships and the Olympics, and this stallion`s mother also is LEGAT.
MADRE: LORENA K - qualificata per il dressage alla famosa asta di Verden - discende della famiglia importantissima della fattrice BOLEGRA creata del allevatore Kampert in Germania. Nel suo Performance Test per fattrici premiati dello Stato tedesco LORENA K aveva una classifica alta per i suoi movimenti impressionanti, una cavalcabilità eccellente e un talento uguale sia per il salto sia per dressage. E di carattere docile è estremamente buona che passa ai suoi figli.
Nel suo pedigree si trovano due stalloni di molto valore per il studbook di Hanover: BOLERO*) e LEGAT. Un altro aspetto molto interessante: la campionessa di dressage della Germania, famosa Isabel Werth, ha un nuovo cavallo giovane con il nome di Satchmo che considera la sua speranza per i futuri Campionati Mondiali e gli Olimpiadi. La madre di questo stallone è LEGAT**).
MUTTER: LORENA K, ehemaliges Verdener Auktionspferd aus dem Dressur-Kader, stammt aus der berühmten Suten-Familie der BOLEGRA, begründet von dem erfolgreichen Hannoveraner-Züchter Kampert. LORENA K bestand ihre Stutenleistungsprüfung aufgrund ihrer überzeugenden Grundgangarten und hohen Rittigkeitswerten mit hervorragenden Benotungen, die auch ihre Doppelbegabung für Springen und Dressur unter Beweis stellen. Die hannoversche Elite-Stute ist sanft und lieb vom Charakter und gibt diese positiven Eigenschaften an ihre Fohlen weiter.
In ihrem Stammbaum finden sich auch die berühmten Vererber BOLERO und LEGAT, beide prägend für die hannoversche Zucht.
Ein interessanter Punkt: Das Nachwuchspferd der deutschen Dressur-Korryphäe Isabel Werth, der Hengst Satchmo, auf den sie alle ihre Hoffnungen für künftige Weltmeisterschaften und Olympiaden setzt, hat eine LEGAT-Mutter.

| | |
| --- | --- |
| | |
| *)BOLERO | **)LEGAT |