ESCUDO I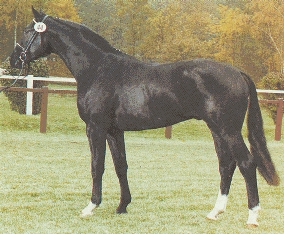 PRINCESS
SIRE: ESCUDO I
Outstanding in type and expression and well muscled. Winner of the performance test Adelheidsdorf 1994 with the highest jumping score. His phenomenal jumping ability was already discovered at the licensing 1993. After a positive development, the black achieved an evaluation above avarge also in all the other test criteria.ESCUDO I so far has produced many world cup winning sons like Hugo Simon`s E.T.. Two of ESCUDO I´s sons won the difficult Performance Test in Adelheidsdorf: EL BUNDY in 2001 (jumping index a phenomenal 143,17, EARL in 2002, jumping index 143,93.
Obviously ESCUDO I passes on to his children his exceptional jumping talent.

VATER: ESCUDO I
Plastisch bemuskelt und hervorragend in Typ und Ausdruck. Leistungsprüfungssieger
mit dem höchsten Springindex. Die aussergewöhnliche Springbegabung war schon bei der Körung 1993 aufgefallen. Nach positiver Entwicklung erreichte der Rappe auch in allen anderen Prüfungskriterien eine überdurchschnittliche Bewertung. Mit fünf Jahren Gewinner der Hannoveraner-Springprüfung und Vizemeister in Deutschland. Sein Vater ESPRI war Hengst des Jahres 1995 und hat viele Weltmeisterschaftssieger hervorgebracht, u.a. E.T., geritten von HUGO SIMON.
Im Jahr 2001 wurde der ESCUDO-I-SOHN EL BUNDY von REBEL Z/CARNEVAL mit 145,01 Punkten Sieger der HLP Adelheidsdorf Z (Springindex 143,17). 2002 siegte ein weiterer ESCUDO-I-Sohn in dieser schweren Prüfung: EARL (Springindex 143,93).
Die aussergewühnliche Springbegabung vererbt sich ganz offensichtlich.

PADRE: ESCUDO I
Molto ben muscolato e espressivo.Ha vinto il P.T. 1994 con punteggi eccelenti in tutte le categorie, vincendo la prova del salto. A 5 anni è stato campione nel salto ostacoli per gli Hanover e vicecampione nazionale in Germania. Il padre ESPRI è stato campione dell`anno 1995 e ha prodotto numerosi saltatori vincitori in Coppa del Mondo come E.T. sotto la sella di Hugo Simon. Nell`anno 2001 il figlio di ESCUDO I con il nome EL BUNDY era vincitore del P.T. di Adelheidsdorf con la valutazione 145,01(indice sul salto 143,17). Un anno dopo (2002) ancora un vincitore del P.T. Adelsheidsdorf: EARL, figlio di ESCUDO I. Indice sul salto: 143,93.
Si trasmette, ovviamente, il talento per il salto.

PERFORMANCE TEST/HENGSTLEISTUNGSPRÜFUNG:
RESULTS/VALUTAZIONI/ERGEBNISSE: 134,38
1st of 37 participants/ 1 posto da 37 participanti/ 1. Platz bei 37 Teilnehmern
Index Dressage: 115,73/8th, ottesimo/8. Platz
Index Jumping/Salto/Springen: 114,90/1st/primo posto/1. Platz


DAM: SANTO STEFANO PRINCESS
Before joining the SANTO STEFANO stud PRINCESS was successful in show jumping on international level with the German rider Dirk Hauser. She is registered as high quality mare in the Westfalian studbook and when presented in the qualifying Italian show immediately achieved outstanding 80,5 points. Her offspring is famous for being reliable, goodnatured and easy to ride with excellent movements and equally gifted for dressage and jumping. Four of her daughters are highclass Italian breeding mares. Her daughter CONTESSA for example is the mother of CORDE, the winner of the Italian Performance Test in GROSSETO 2002. CORDE and his elder brother SANTO STEFANO WINNIE are being trained in show-jumping by Gianni Govoni, whereas their younger brother RUBINSTEIN ITALIA took a good ranking in a show for one-year-old stallions in Citta di Castello 2002. PRINCESS´s daughter SANTO STEFANO CHAYA is the mother of SANTO STEFANO RAOUL, the winner of the show for one-year-old stallions in Citta di Castello 2002, and with her son SANTO STEFANO DORIAN qualified for the final show in Verona 2002. A grand-daughter of PRINCESS, SANTO STEFANO RUBIE, apart from various U.N.I.R.E. qualifications in dressage and show-jumping started her dressage career with very good marks under the saddle of young Carlotta Canevese.

MUTTER: SANTO STEFANO PRINCESS
Bevor sie auf dem Gestüt SANTO STEFANO "CHEF-STUTE" wurde, war PRINCESS im Springsport bis zur Klasse S mit dem deutschen Reiter Dirk Hauser erfolgreich. Sie ist im westfälischen Hauptstutbuch eingetragen und erzielte bei ihrer Leistungsprüfung in Italien auf Anhieb 80,5 Punkte. Ihre Nachkommen zeichnen sich durch besondere Zuverlässigkeit, Rittigkeit und Ausdauer bei guten Grundgangarten aus und machen sowohl im Viereck als auch im Parcours einen guten Eindruck. Vier ihrer Töchter sind italienische Elite-Zuchtstuten mit ausgezeichneten Werten. Die PRINCESS-Tochter CONTESSA ist Mutter des Siegers der Hengstleistungsprüfung GROSSETO 2002: CORDE. CORDE und sein älterer Bruder SANTO STEFANO WINNIE werden von Gianni Govoni im Springen trainiert, während ihr jüngerer Bruder RUBINSTEIN ITALIA bereits bei der Prüfung der einjährigen Hengste in Citta di Castello 2002 den 5. Platz erzielte. Die PRINCESS- Tochter SANTO STEFANO CHAYA ist Mutter von SANTO STEFANO RAOUL, dem Sieger der einjährigen Hengste in Citta di Castello 2002, und mit ihrem Sohn RUBINSTEIN ITALIA Finalistin bei der Stutenpräsentation in Verona 2002. Eine Enkelin der PRINCESS, SANTO STEFANO RUBIE, ist fünfjährig mit der jungen Reiterin Carlotta Canevese ausgesprochen erfolgreich in der Dressur, nachdem sie mit vier Jahren mehrfach hochplatziert in diversen Modell-, Dressur- und Springprüfungen der U.N.I.R.E. war.

MADRE: SANTO STEFANO PRINCESS
Prima che veniva "Capo-Fattrice" alla tenuta SANTO STEFANO Princess gareggiava con molto successo in percorsi difficili sotto la sella del cavaliere tedesco su livello internazionale DIRK HAUSER. Iscritta nel libro genealogico di Westfalia come fattrice premiata dello stato, PRINCESS nella rassegna corrispettiva in Italia veniva dato 80,5 punti dagli giudici, un risultato davvero rispettabile. I figli di questa fattrice élite sono di una cavalcabilità eccellente, affidabili, sereni e disponibili con andature fuoriclasse sia nel percorso sia nel rettangolo. Quattro figlie della PRINCESS sono fattrici élite italiani con classifiche ottime. CONTESSA, per esempio, è la madre del vincitore del Performance Test di Grosseto 2002: CORDE. CORDE e il suo fratello più grande, SANTO STEFANO WINNIE, vengono preparati per la carriera agonistica sul salto da Gianni Govoni. Il fratello più piccolo di CORDE e WINNIE, RUBINSTEIN ITALIA era 5. classificato nella prova di stalloni di un anno a Città di Castello 2002. SANTO STEFANO CHAYA, un altra figlia di PRINCESS, è la madre di SANTO STEFANO RAOUL, vincitore della prova di stalloni di un anno a Città di Castello 2002, mentre che con il suo figlio RUBINSTEIN ITALIA era finalista alla presentazione fattrici/puledri a Verona 2002. Una nipote di PRINCESS, SANTO STEFANO RUBIE,dopo tante classifiche importanti U.N.I.R.E. a quattro anni per modello, ubbidienza e salto, a cinque anni gareggia con risultati molto buoni in dressage sotto la sella della giovane amazzone Carlotta Canevese.