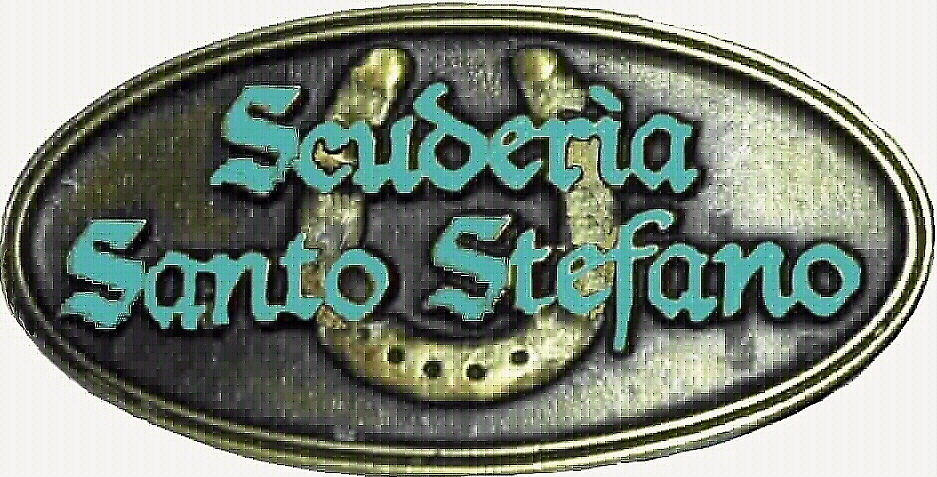 Allevatori di cavalli tedeschi con passaporto italiano © 2005-2015 scuderia santo stefano srl
Imprinting Foals
A few impressions of the welcome culture
at SANTO STEFANO
Mum PYRAH by POLYDOR watching her new born son REMUS SANTO STEFANO (sire: RUBINSTEIN I) getting cleaned and dried by breeder and owner Barbara Fuchs

CORVO SANTO STEFANO (sire: CORDE SANTO STEFANO, dam CHAYA SANTO STEFANO) enjoying his first washing with a clean white towel

Very touching: First kiss from FIGHTING FLAVIUS (by FIGHTING ALPHA and FANIE SANTO STEFANO). His birth was particularly difficult.

MUM LOULOU by LOKATOR/WERTHER
relaxing after giving birth to CORIANDER SANTO STEFANO obviously happy that "nurse" Barbara is taking care of her charge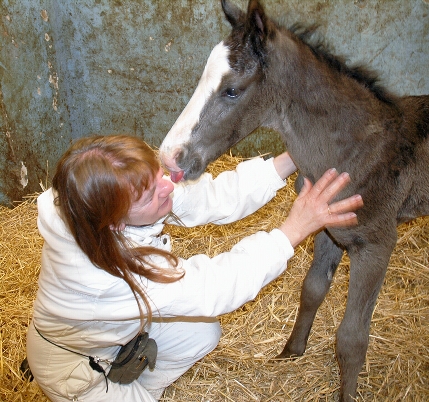 CORADOX SANTO STEFANO (sire: CORDE SANTO STEFANO, dam WANJA SANTO STEFANO) being helped to stand up
The first moments of life are extremely important for the relationship between the newborn foal and human beings. This very first contact has been called "imprinting" by the famous animal psychologist Conrad Lorenz. The presence and assistance of the owner creates an atmosphere of trust and well-being in the relationship between newborn foal and men, but also an atmosphereof trust between the mother and their owners. We are always present when our mares are giving birth helping, soothing and assisting when it is necessary. Touch and voice contact are extremely important also during the mares' pregnancy. We are convinced that the foal already knows us before it gets delivered into this world.
The first gulp of milk (colostrum) full with valuable protecting substances milked from the mother is supplied by us immediately after cleaning and disinfecting the umbilical cord. Then we help the little creature to get up and to find the mother's udder. These very intimate moments where only we are present without intruding or disturbing the relation between mother and newborn are the "imprinting" that makes SANTO STEFANO horses so special.
Eberhard Fuchs supporting ROMOLUS SANTO STEFANO
(sire: RUBINSTEIN I) to stand on his feet while mum PYRAH (POLYDOR) is cleaning her son


CORVO SANTO STEFANO (by CORDE SANTO STEFANO and CHAYA/CHROMATIC xx) being served his first drink of colostrum by Eberhard Fuchs. It is important to give the colostrum during the first 2 hours of life of the foal to protect him from dangerous diseases.

COR SANTO STEFANO by CORDE SANTO STEFANO: eagerly swallowing 250 ml colostrum taken from mum PYRAH by POLYDOR. To your health, Sir!

First drink of colostrum: CORETTINA SANTO STEFANO (CORDE/LOULOU)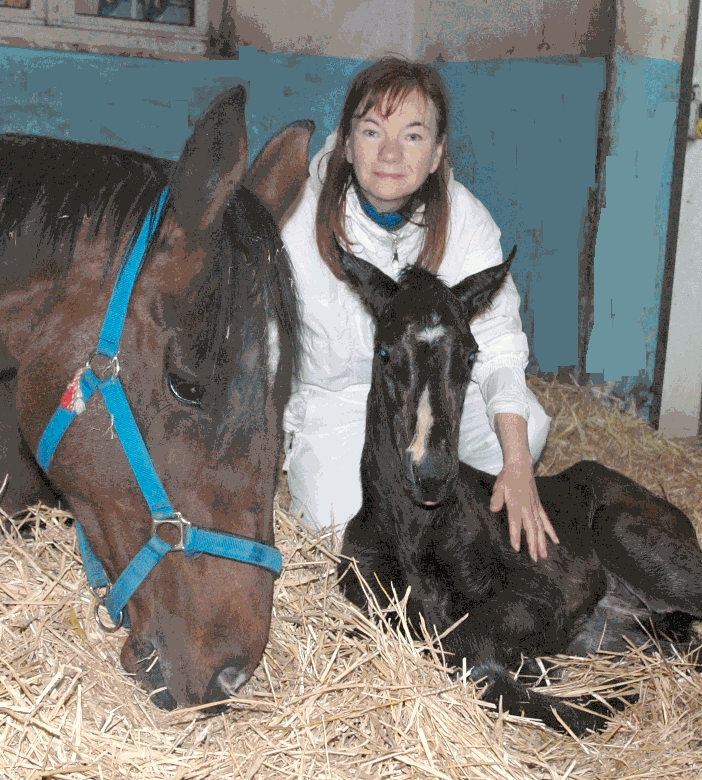 Exhausted at 4 o'clock in the morning. Mum LALLA (Trakehner by LATIMER) after giving
birth to beautiful CORTINA SANTO STEFANO
by CORDE SANTO STEFANO. CORTINA was
at once nick-named "Miss Potter" by grandma Barbara because of her "Harry-Potter-Flash".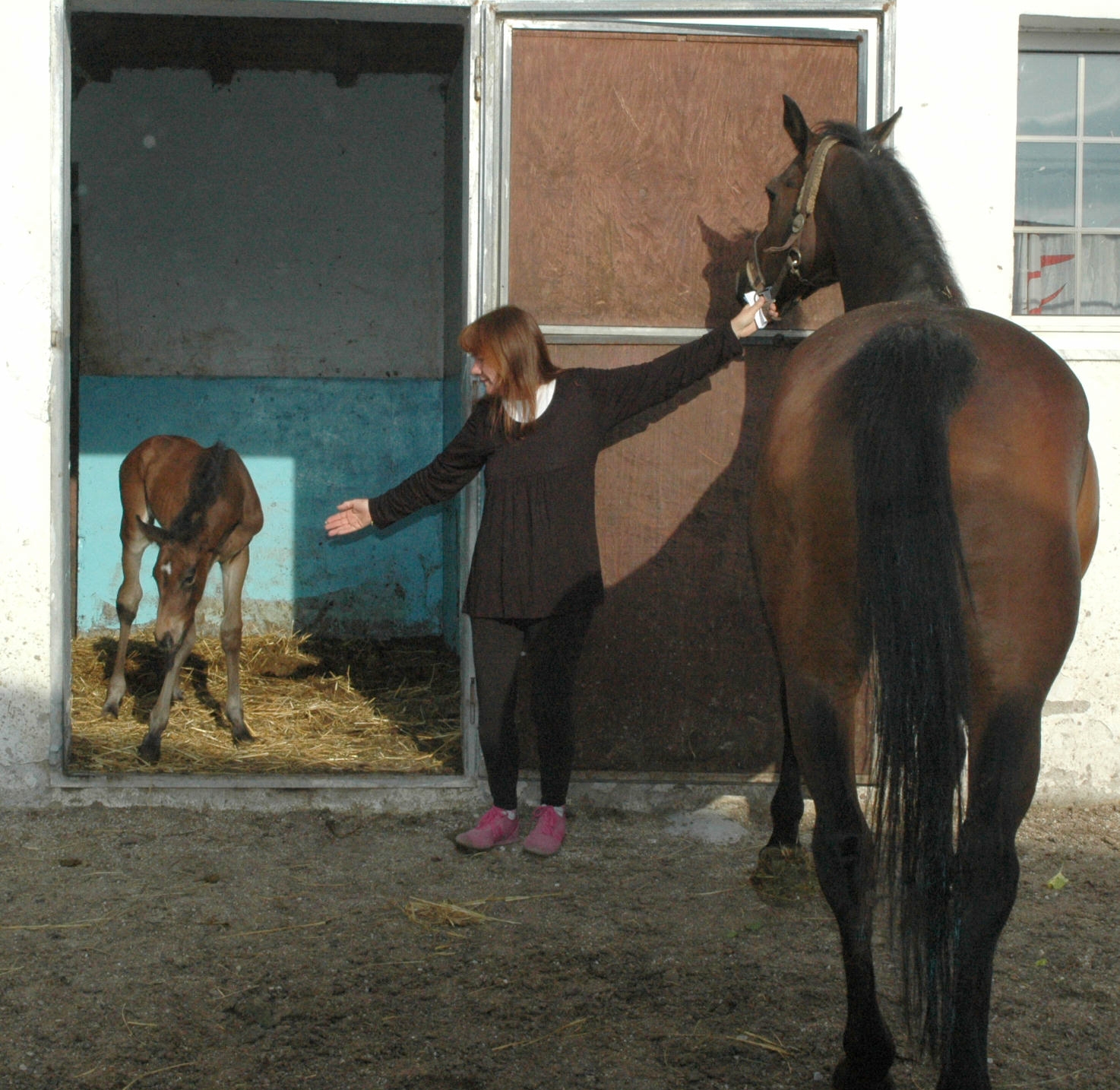 3rd day....Being taken for the first walk.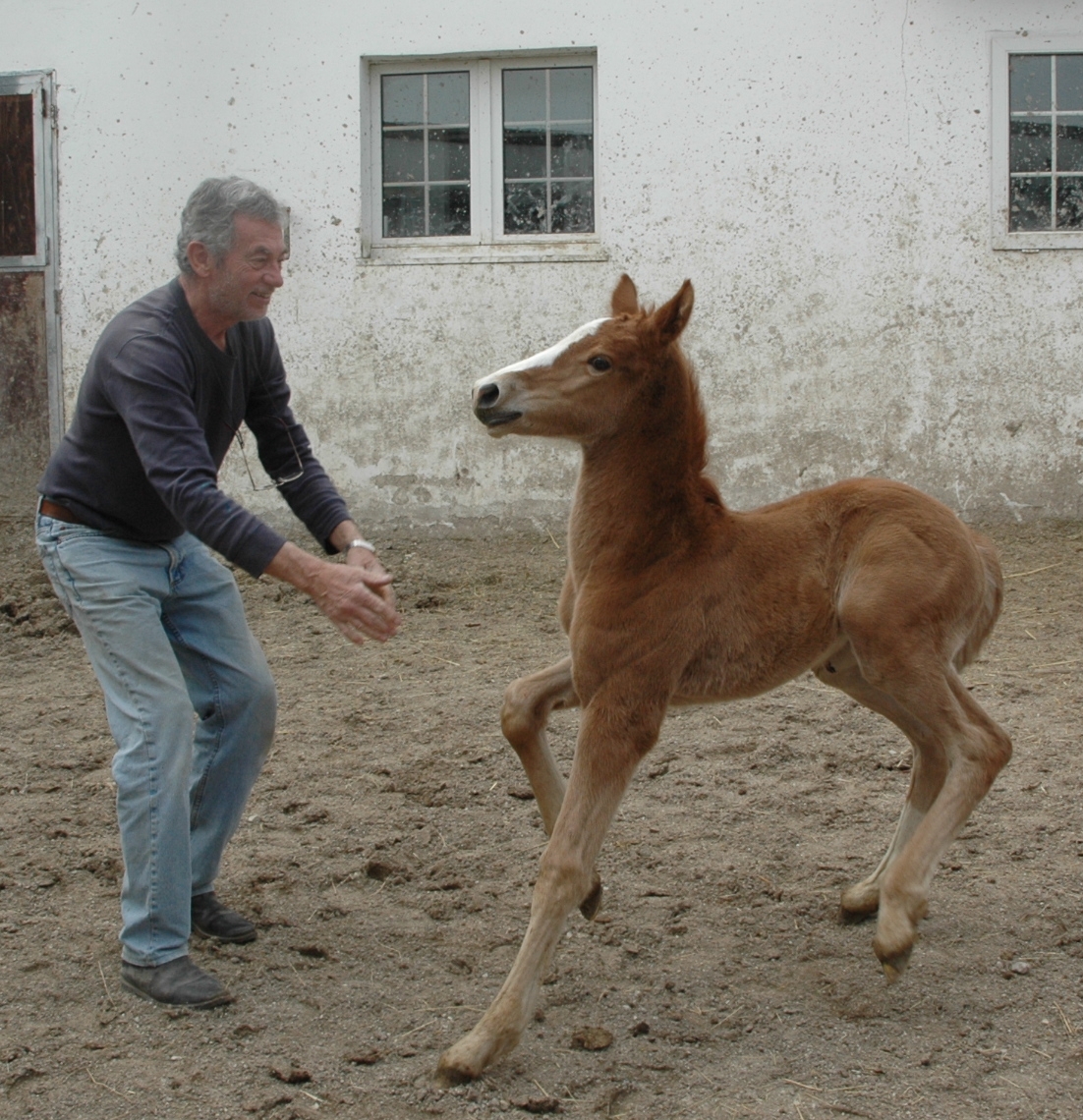 3rd day:
Star and multi-talent
LEAH SANTO STEFANO
by LE PRIMEUR
(LADYKILLER/CALYPSO II/LAPTOP)
and
LORENA SANTO STEFANO
(LEGAT/LANTHAN/BOLERO)
playing on the paddock with Eberhard Fuchs
contact